Contact Us.
All fields are required.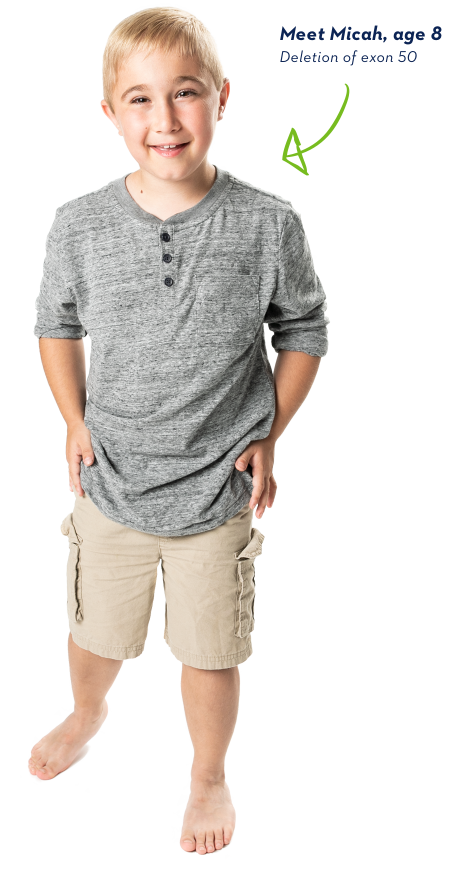 WHAT IS
 

EXONDYS 51 (eteplirsen)?

EXONDYS 51 is used to treat Duchenne muscular dystrophy (DMD) in patients who have a confirmed mutation in the dystrophin gene that can be treated by skipping exon 51. EXONDYS 51 was approved under accelerated approval. Accelerated approval allows for drugs to be approved based on a marker that is considered reasonably likely to predict a clinical benefit. EXONDYS 51 treatment increased the marker, dystrophin, in skeletal muscle in some patients. Verification of a clinical benefit may be needed for EXONDYS 51 to continue to be approved.
IMPORTANT RISK INFORMATION
Allergic reactions, including wheezing, chest pain, cough, rapid heart rate, and hives have occurred in patients who were treated with EXONDYS 51. Seek immediate medical care if signs and symptoms of allergic reactions occur.
Side effects that happened at least 25% more often in 8 patients treated with EXONDYS 51 by intravenous infusion than in 4 patients treated with an inactive intravenous infusion were problems with balance (38%, 0%), vomiting (38%, 0%), and skin irritation (25%, 0%). The most common side effects were problems with balance and vomiting.
The most common side effects seen in greater than 10% of patients receiving EXONDYS 51 (N=163) in other clinical trials were headache, cough, rash, and vomiting. 
You are encouraged to report negative side effects of prescription drugs to the FDA. Visit www.fda.gov/medwatch or call 1-800-FDA-1088. You may also report side effects to Sarepta Therapeutics at 1-888-SAREPTA (1-888-727-3782).
Please see the full Prescribing Information for EXONDYS 51 (eteplirsen).